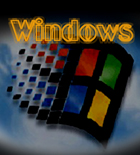 The biggest change in player availability has to have taken place in Bill Gates favorite cash cow. Please understand that this is NOT a complete list of 'doze players - that would take waay to long.... Just what I believe to be the better (ie less likely to crash ones). If I've missed out your player, why not send me insulting email to tell me what a dick I am :-) In other words, show me that great player you made!!


MOD4WIN
Description:
Plays MOD/STM/S3M/669/FAR/MTM/UNIS/OKT/WOW/XM on a Windows asynchronous wave driver (no PC speaker) or GF1- (GUS/MAX/ACE) or OPL4-based card (direct support). Direct to Disk Recording is also available (WAV recording of a mod). Up to 16 bits, 48kHz. Features surround sound (also with GF1 for mods with up to 8 tracks), IDO2, panning, integrated file selection, playlists, file management and archiver support. Perhaps the most accurate player for PC's. A 'light' archive is available, which contains only the English help file and only one example mod to save download time.By Kay Bruns, Uwe Zaenker and Jens Puchert. Shareware $30 (new user fee, update prices range from free to $15), runs for 30 days.
http://www.mod4win.com/

This is the *official* M4W website so they should have any or all of the versions available. While checking out this link I pulled this information off that site:

Current available Beta versions: (Page last updated 12/11/98)
* MOD4WIN 2.40
* MOD4WIN 2.40 MCI device driver

You can also get it at these FTP sites:

http://ftp.cdrom.com/music/programs/players/m4w230sx.zip
http://ftp.cdrom.com/music/programs/players/m4w230sl.zip
http://ftp.cdrom.com/music/programs/players/m4w240bd.zip

You will not be able to get these for very much longer on the Hornet site, which is why I list the cdrom addresses.

Some information below supplied by Hugh Hulme <hugh.hulme@virgin.net> in 1998:


MIDAS PLAYER For Win '95,nt V1.0
Description:
Plays 4-track MOD and (up to) 16-track S3M files using the Windows WAV device for output to any Windows compatible sound card. Supports the GUS directly. Supports 16 bit mixing and stereo. Supports mixing rates of 11.025, 22.05 and 44.1 kHz. Supports Dolby (TM) surround sound panning for S3M files. Supports Microsoft Windows Media Control Interface (MCI). Midas'95 is a module player based on the Midas Sound System (by Sahara Surfers), By Petteri Kangaslampi, Jarno Pannanen and Benjamin Cooley. Freeware for non-commercial applications.
http://ftp.cdrom.com/music/misc/midas95.zip
MODPlug Player
Description:
Arguably the favourite player for Windows right now. This free player will play many different types of MODs, and also comes as a Plugin for Netscape or Microsoft Internet Explorer. The latest version is 1.40 but the version changes (it seems) almost by the day. Oliver Lapicque (the maker) also has a www site http://www.jps.net/olivierl/ where information on all his projects can be found.

The MODPlug Player supports the following file formats: *.669: UNIS 669, 669 Composer modules, *.FAR: Farandole Composer modules (beta),*.IT: Impulse Tracker modules, *.MED: OctaMed modules, *.MDL: DigiTracker 1.x modules, *.MOD: ProTracker modules (4-32 channels,15/31 samples), *.MOL: Module lists, compatible with MOD4WIN, *.MTM: MultiTracker modules, *.NST: NoiseTracker modules, *.OKT: OktaLyser modules, *.S3M: ScreamTracker III modules, *.STM: ScreamTracker II modules, *.ULT: UltraTracker modules (in alpha), *.WOW: Grave Composer modules, *.XM: FastTracker modules, *.WAV: Wave Files (smaller than 16MB), All the above when zipped (*.MDZ, *.S3Z, *.XMZ,*.ITZ, *.ZIP).

The MODPlug Player offers you many options, including: Customizable Sound Card Setup (Mixing Quality, Stereo/Mono, 8/16 bit, Sound buffer length and Number of buffers, Stereo Separation, Maximum Mixing Channels, Function Callback and Real-Time Priority); Player Setup (Spectrum analyzer, Stereo Spectrum, Reverb, Pro-Logic Delayed Surround, Noise Reduction, Bass Expansion, Multi-Point oversampling, Volume Ramping, Automatic Gain Control and IntroScan); MOD Packing (To reduce the size of the MOD by ~45%); Customizable Display and much more! All for free!

http://www.modplug.com/modplug/ for Plugin, Player and Tracker!

And, as of the last update at MODplug Central:


Improved a lot handling of IT filter envelopes.
Fixed UMX loader for IT modules.
Loads mod4win playlists with multiple directories.
Snap to viewport doesn't hide the player under the taskbar anymore.
Fixed setup dialog: wasn't showing with Win95 versions older than OSR1 or NT 3.51
Fixed channels VU-Meters in the mixer window
Added beta AMS 2.2 loader
Fixed some special cases where pattern loops were ignored in the initial 1.39
MikIT (0.01b 0.02b and 0.03b and 1.00 Alpha) for Win95
Description:
One of the smallest Windows based IT players. MikIt features: Accurate playback of IT, XM, S3M and MOD modules, Has an easy to use GUI, Works for most common OS platforms, Configurable output supports multiple soundcards, sampling rates Load & Save Playlist, sample / instrument / message information dialog, super high quality noclick option.
http://www.stack.nl/~mikmak/mikit.htm
Yamp 3.2(Yet Another Mod Player<g>)
Description:
Windows Mod Player by Andre' Karwath aka AKA This very decent and good looking player supports WAVs in all formats, even compressed , MIDs, RMIs, MODs, S3Ms, XMs,ITs and CDs, ZIP support, excellent play lists, Drag'n' Drop for songs, play lists, folders and best of all...loadable and editable designs! Even non-rectangular windows are possible with this feature (TIP: Try the corner or triangular shapes!), 41 designs in great glowing colour are included. Yamp is freeware.
http://www.tu-chemnitz.de/~aka
XM-Play 1.4
Description:


"XMPlay is a Windows 9x/NT music module player, supporting the XM/ IT / MOD / S3M / MTM formats. Initially, only XM files were supported hence the name 'XMPlay'"

Or at least, that's what Ian Luck says of his player. He goes on to add..



"So, what's so good about XMPlay then?", you ask. It's got the best (most accurate to FT2) XM reproduction to be heard from any player. All features/effects (including several FT2 quirks) are 100% supported. The IT reproduction is also practically balls-on, with full support for all effects/NNA/DCA/filters/etc..."

Ya know what? Can't find a fault in this brilliant little player yet. It's certainly the most accurate XM player I've ever heard, and I would believe the same to be true of it's IT emulation. Sample interpolation, built in EQ, Surround Sound, Volume/Pan ramping, writes WAV's, loads track lists and so on. The display can be a bit awkward to get to grips with but XM-Play is worth the write up. From the makers of XM-Exe, another very useful XM based product.
All products are freeware
http://www.icl.ndirect.co.uk/music/





HTML Version of ABSM FAQ maintained by Mister X, © 1998/99.