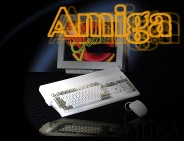 This section originally supplied by Steven Innell <spi@dcs.qmw.ac.uk> on Thu, 24 Nov 94, updated/corrected by Sir Fitz <sirfitz@kaiwan.com> on Fri, 10 Feb 95:

This section was checked for changes and new information by Steve Gilmore <rebriffr@netcomuk.co.uk> in April 1998 and Jan 1999.

The Amiga scene staggers on, with the invaluable help of the Aminet network. And, like all the smaller OS's, there is a distinct lessening of sites catering to this machine. On this update, this is what I found...


Protracker V3.15 ( / V3.10b - see the note below)
Description:
Probably the most used tracker until recently (with people using versions of Octamed in preference). This tracker is the most up-to-date mod creator for the amiga, based on the original Soundtracker interface (although highly upgraded). This version was re-written by Cryptoburners, and has plenty of editing options including simple sample manipulation (sampling, reverb, reverse, cut/paste etc.), but, as of yet, does not have a midi option, nor does it support any form of synthetic sound generation. It does however have an option for using 14-bit samples, although these are few and far between.

It is a daunting program to use at first, especially if you have never had the experience of using any tracker on the amiga (e.g. Soundtracker/Noisetracker/Protracker V1-2.3), since this version uses the sample effect commands found in those older version...and unlike the older versions, this does not have on-line help listing the effects, and what they do.

Protracker is Freeware, with no form of registration/shareware fees to bepaid. A new version (3.20) was supposed to be out, but as of yet I have been unable to find it.
http://www.germany.aminet.org/aminet/dirs/aminet/mus/edit/Protracker3.61.lha
On Wed, 17 May, Markus Weichselbaum contacted jester, saying (excerpt): "The last official version was PT3.10b, available on ftp.funet.fi. PT315 is an internal version never meant to be released (...). PT3.15 has been removed from Aminet, however there is a PT2.3 available. There are simply no '14-bit' samples released. The so-called 'DYN 14bit' system was working to some extent, but since the 'DYN' system was entirely rewritten, the development of PT315 was stopped. Only 2 or 3 test mods have been released, but no samples or documentation (...). I recommend use of PT310b which essentially has the same features as PT315. PT310 is indeed freeware, but PT3.15 is NOT."

When I (jester) asked Steven Innell about this, he replied (excerpt):"I've had the program for 2 years. (...) I know U4IA, who once was a member of Cryptoburners, and also tested a lot of the original trackers out, and he has never said that PT3.15 was a leaked version never intended for release...in fact, a while back he told me they were working away on a commercial V4."

Finally, on 28 Sep 1995, Steven Innell mentioned the subject again, saying (excerpt): ".. and I can now confirm that the release of most of the V3 series were not intended to be available as soon as they were (the exception being V3.00). However the programmer of V3.15 didn't seem to be worried (...) that PT was available, ... BTW, V3.10 is very unstable and unusable on accelerated machines but if you (or anyone else) feel that V3 should not be available, then the next best valid release that works is V2.3b AGA, which was fixed to run on AGA machines."

Now, all I (jester) have to say is that I don't mind anyone using whichever version they wish and I hope the above, especially the last note, clears up any confusion that may have been created.
All of the above has been in this FAQ since (it seems) its inception, I've spoken to jester about it. But, as usual, I came away no wiser;-) I think jester and I talked about deleting it but then I thought, what the hey... It's all grist to someone's mill somewhere.. In the meantime, I'm still looking for that elusive Amiga user who can make this section a hell of a lot clearer to us all...

http://www.germany.aminet.org/aminet/dirs/mus_edit.html has all of the following:

ProTracker          4beta2 repair
ProTracker.lzh      ProTracker1.3 Works under 2.04!
Protracker3.61.lha  Protracker 3.61, music composing programm
pt23d.lha           PT 2.3d A1200 keypad fix ... read the readme file 
pt315.lha           Protracker 3.15
PT362-fix.lha       ProTracker3.62 XPK fix
PT4_Beta2.lha       Protracker V4.0 Beta 2   (music composing tool)
ptsupp.lha          ProTracker support archive

OctaMed (V6)Several changes have been made to the program, the first and most notable being that OctaMed now opens its screen on the WorkBench screen, using whatever ScreenMode was being used by the WB. Amongst the many features added are better/or new SoundCard support (Aura/Tocatta) improved 8 channel handling, completely new interface (as mentioned above - sortof)

The New features are numerous, and if you are a med fan, you are advised To download the demo of Version 6 from Aminet, and read the large text documentation that comes with it. Note that OctaMed is a Commercial program, and can be purchased from Ray Burt-Frost software at:



RBF Software
169 Dale Valley Road
HollyBrook
Southampton
SO1 6QX
England

(01703) 785680 - Voice/Answerphone
(01703) 703446 - Fax

Email: rbfsoft@cix.compulink.co.uk

I received this information from Ray Burt Frost in February 1998:


OctaMED Soundstudio V1.03c
Description:
This is the 1996/7 release version of this series of Trackers by Teijo Kinnunen.

Several changes have been made to the program, the first and most notable being that OctaMED now opens its screen on the Workbench screen, using whatever Screen Mode was being used by the WB. Amongst the many features added are better/or new Soundcard support improved 8 channel handling, no sample size limits, plus a *lot* more!

"OctaMED Soundstudio" is a Commercial Program, V1.03c has now been designated as Freeware and the full version is available from:



http://www.octamed.co.uk/


OctaMED Soundstudio V2 Beta and OctaMED Soundstudio V1.03c Freeware version are both available at this site as is the 1.03c's online manual. FAQ`s about the program can be found on the AMIGA pages.

The earlier "OctaMED" V4 can also be downloaded for those with older 0/S

This is Aminet's OctaMED archive:



Octa5.lha            618K this is a demo of Octamed5 Duggy. 
OctaMED.lzh          354K Music editor, can handle 8 voices
OctaMEDv4.lha        299K Music editing software, 8 voices
OctaMEDv4_dev.lha    249K Music editor programming kit
OctaScripts.lha      ARexx scripts for OctaMED SoundStudio
OMED_PT1423.lha      7K OctaMED SS1 PT cuts upgrade (1.423)
omed_pt15.lha        11K OctaMED SS1 PT cuts upgrade (1.5)

StarTrekker (Very unknown sorry ;-)
Description:
This is a mod editor in the same vein as Octamed. It has a layout the same as the old sound/noisetrackers, but also has the ability to use 8 channels...however 8 channel mode sounds really bad, and you are better off using octamed, or protracker.

StarTrekker.lha 134K Version 1.2 of StarTrekker can now be found at http://www.germany.aminet.org/aminet/dirs/aminet/mus/edit/StarTrekker.lha or by FTP at: ftp://ftp.aminet.org/


Future Composer
Description:
This is a wholly synthetic mod editor (saying that..it does allow the use of samples). It does not import/export tracker mods though. This program is very old (1989 ish) and is very fiddly to use..even with the manual printed out and in front of me. The tunes this "tracker" generates sound a lot like the 8-bit machines tunes (eg C64 music). Some of the tunes are however very nice sounding, its just a shame the program is so damn hard to use ;-)
FutureComposer.lha 210K Editor for BSI Future Composer mods can now be found at http://www.germany.aminet.org/aminet/dirs/aminet/mus/edit/FutureComposer.lha or ftp://ftp.aminet.org/


Art Of Noise
Description:
This is a recent mod Editor for the Amiga. It is a shareware demo of the program, the full version costing 79 DM (available only from the author). First of all, it is 100% protracker compatible (load-format !) That means that you don't have to get used to new shortcuts to old (protracker) functions! But that doesn't mean, that this tracker is just another protracker clone! You might already have noticed, that AON has got dozens of new functions. If you load AON for the first time, you might be slayed by all these new functions, but it's worth taking a look at them. I think it would be the best to list up a few of them:

OS-2 graphical environment
Reqtools-Requester
Supports euro-72 monitors
8 channels! But in contrary to startrekker/octamed/oktalyzer this time REAL 8 channels, that means free volume/pitch-settings on EVERY channel, loops of course also possible (achieved by real-time Mixing of channels)
maximum number of instruments increased to 61
maximum number of patterns increased to 128
maximum number of positions increased to 256, including restart position
wavetable & sampleinstruments.
'macro' instruments possible: E.g. 10 instruments can share the same waveform, but the samplestart (for example, there is certainly a greater number of possibilities offered by this feature!) can vary from instrument to instrument ! Wavetable instruments can be used to create 64er-like sounds, but they are also great for big resonance-pads etc.

number of player-commands increased from 28 (protracker) to 45, and there are of course a lot to come in future versions!
Supports powerpacker and STONECRACKER (the best cruncher around!)
Arpeggio (maximal 7 notes!) + any other effect, arpeggio speed changeable
Remark (normal textfile/ansi) linkable to module
FM-Synthesis
Drumsequencer! Make your own drumlines with up to 16 tracks
Big sampleeditor ! Features samples>128k, multisampling, sample-trigger digital-filter with selectable depth, flanger, phase-distortion, direct 'freestyle' sample editing: paint your own waves
supports external-synchronizing, e.g. for demos or other presentations
Player is easy to build in in own programs.
Turbo-Player available, takes about 1-2 rasterlines (faster than any other player!)
The whole handling has been changed ofcourse, so just check out the preview If you like this program, please don't copy it. A program worth using is a program worth buying ! Contact me at the following address:


BASTIAN SPIEGEL
TRUPERMOORER LANDSTRASSE 17A
28865 LILIENTHAL
GERMANY
or call: 04298-30731 or 04298-4873 (16h-22h) (if other line is busy or nobody picks up)

The full-version will cost 79DM and features a very nice printed manual plus 4 disks (program/workshop/instruments/demomods)!

The preview version lacks of save-routines, but all effects and functions are useable!
ArtOfNoise.lha can be found at http://www.germany.aminet.org/aminet/dirs/aminet/mus/edit/ArtOfNoise.lha

Be warned, however, that this file doesn't seem to have received an update since Feb '95 That obviously doesn't bode well for the program, let alone all the blurb above. Anyone have any further info on this tracker, please contact me.

I also recieved this infomation from Patrick Meng <pmeng@vtx.ch> as I was compiling the FAQ:

Symphonie is an Amiga only tracker which is planned for all other platforms within short time...

It features 256 channels, realtime declicking, 256 resonant filters, dsp plug in system. Up to 500 kHz mixrate, Digital Output to HD. and much more...

the home page is at:

http://www.geocities.com/SiliconValley/1497/syminfo.htm
Well, not anymore it ain't. So much for that, vapourware is all it's tawdry glory :-) NEXT!!

And lastly this in fresh from DigiBooster <digi@kki.net.pl>


DIGI Booster Pro supports following formats: XM, S3M, MMD0-MMD3 (Octamed/SS), MOD (4-32 CHN) OKTALYZER and DIGI(Digi Booster 1.x); mixer (HD rendering) option included which allow to render your module to AIFF or AIFC sample then you are able to convert these formats e.g. to CDDA or MPEG audio formats; real time DSP effects: echo, cross echo, delay, cross delay, hall and works on defined channels; it means that you are able to active DSP with selected tracks; optional 32 bit HIFI mixing with linear interpolation in real time; 100% assembler code; Export *.XM files (4-32 channels) *.MOD MOD.* files (4-32 channels) - but neither in unregistered versions; up to 128 channels (4/6/8/10/..../128); up to 7 octaves; unlimited sample size; AHI support (at this moment there's support for following sound card: Tocatta, Delfina,Wavetools,Prelude,Melody,Maestro,Concierto and of course for Paula); DeliTracker, EaglePlayer and Hippo player support; source code of player included; two different commands in one line and in same time. It means that you can use for example: sample offset command 9xx and vibrato 4xx; 8 and 16 bit audio modes (so you can load to Digi Booster 16 bit samples) Formats supported: IFF8SVX ; IFF16SV ; RIFFWAV 8BIT;RIFFWAV 16BIT; AIFF 8/16BIT / STEREO/MONO: max. 256 samples (only in editor, but File format (DBM) supports max 65535); max. 1024 patterns; max. 1024 positions; almost all key shorcuts and commands are Pro Tracker compatible ; ping pong loop and command E3x - backward play; realtime instrument effects: volume envelope; boost envelope; filter envelope; offsets; panning envelope and much more.

The website http://www.amigaworld.com/support/digibooster/ is about the only site I can locate for this...and even that says it's shutting down. Yet another vapourware tracker anyone?





HTML Version of ABSM FAQ maintained by Mister X, © 1998/99.